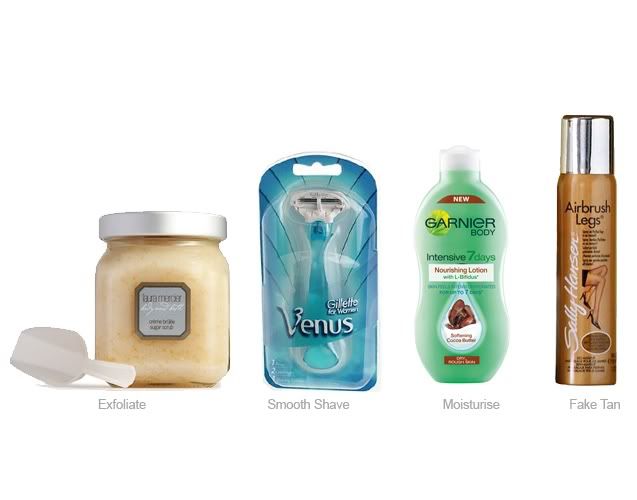 Whilst on the subject of baring your legs this Spring/Summer here are a few tips on how to get them ready for showing off ....
1. Exfoliating
Exfoliating your legs regularly will insure that they stay silky soft and smooth by getting rid of dead and dry skin. Use a body scrub every other day in the shower or bath for great results. I love the
Creme Brulee Sugar Scrub by Laura Mercier
. The creme brulee fragrance with hints of caramel, Cream and Vanilla leaves you smelling amazing and leaves your legs feeling great. Available at Space NK.
2. Shaving
Everyone knows shaving is a massive hassle, but I find it the easiest and quickest way to get smooth frizz free legs during skirts and shorts season and you can't go wrong with a good old
Gillette Venus Shaver
. Forget all these fancy vibrating, 10 blade, all singing and dancing shavers. As long as you have some good shaving foam a Venus is all you need! Venus shavers are available from Boots.
3. Moisturising
Smooth flawless skin needs plenty of moisturising and in the Spring/Summer our skin has to cope with dehydrating effects of sunshine and warmer temperatures. I'm currently loving the new
Intensive 7 Day Moisturiser from Garnier
, it leaves my skin feeling super soft, absorbs quickly and smells great and it's a bargain at only £2.99 for 250ml.
4. Fake Tan
If you're anything like me and have hidden your legs away for the last 7 months they're probably in need of a little fake bronzing. For a quick fake tan fix on my legs I love
'Airbrush legs
' by Sally Hansen. It's literally a case of spray and go, great for ladies on the go!